»02 Sid Vicious icons
»06 Klaxons icons
»12 Harry Potter icon
»14 Mighty Boosh icons
»15 Gary Oldman icons (Rosencrantz & Guildenstern Are Dead/Sid & Nancy)
»11 Gary Oldman gifs " "
»02 Headers (Voldemort & Aro)
Teasers:
AY DID WOT AY 'AD TA DO
What prompted me to join here is ebay. I am trying to sell part of my Gary Oldman collection. I thought I share this with you in case anyone is interested in obtaining a Gary Oldman film lot.
My auction has Chattahoochee, Meantime, Bram Stoker's Dracula & Nobody's Baby. I don't really care how much I sell them for, as long as they go to a good home! I am selling these because we need to downsize a bit.
Delete this or yell at me if selling stuff on here is bad. :-S
EBAY LINK:
http://cgi.ebay.com/ws/eBayISAPI.dll?ViewItem&item=200412197516
Hello! I have been a fan of Gary's for about 5-6 years. I used to be obsessed with him, but nowadays I have mellowed out, just feeling a little smile go across my face whenever I see his name in movies. Like last week, I didn't know he was in Planet 51 until we started watching it. I was secretly like "yay!"! My favorite film is Leon as well. I believe Leon was the first film I watched with Gary Oldman in it. I watch that film a few times a year, so my love for Gary Oldman rekindles a bit. :)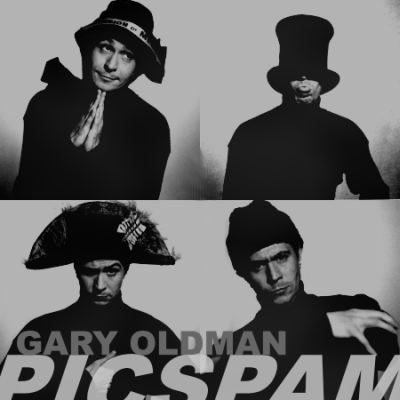 I don't think Hollywood knows what to do with me.
[Also posted at
garylove. :)]
Random 'because I can' Gary picspam over at my LJ! :)
Current Mood:

cold
[73] Celebs
Mélanie Laurent, Audrey Hepburn, Zooey Deschanel, Winona Ryder, Deborah Ann Woll.
Alexander Skarsgard, Johnny Depp.
[35] Movies
Bram Stoker's Dracula, Beetlejuice, Inglourious Basterds, How to Steal a Million,
The Age of Innocence, Heathers.
[3] TV Shows
Lost, Skins (S4).



here
@
bejoy_icons
[92] TOTAL
[31] Requests

[26] Celebs
·(32-43) Winona Ryder
·(44-48) Alexander Skarsgard
·(49-52) Charles Chaplin
·(53-55) Natalie Wood
·(56-57) Audrey Hepburn / Kate Winslet
[19] TV Shows
·(58-64) The Office
·(65-70) The Big Bang Theory
·(71-74) Lost
·(75-78) Skins 2.0

[10] Movies
·(79-84) Cry Baby
·(82-88) Inglourious Basterds
[4] Music
·(89-92) Robbie Williams


here
at
bejoy_icons
[58] TOTAL[16]
Johnny Depp
(some with Tim Burton & Kate Winslet)
[9]
Ewan McGregor
(one with Jude Law)
[8]
Keanu Reeves
[8]
Winona Ryder
[8]
Audrey Hepburn
[6]
Gary Oldman
[2]
Scarlett Johansson
[1]
Tim Burton


HERE
@
bejoy_icons
[52] TOTAL[9]
Winona Ryder
(number 3 from the movie "Boys")
[6]
Johnny Depp
[1]
Johnny/Winona
[6]
Ewan McGregor
[2]
Taylor Kitsch
[1]
Zachary Quinto
[13]
True Blood
(spoilers from 2x09)

[8]
Bram Stoker's Dracula
[5]
Up
[1]
The Rocky Horror Picture Show


here
at
bejoy_icons

I have some DVD´s but i would like to buy more and would like to know which are the most worth seeing.
I have Potters, Batmans :-))) Dracula, Immortal Beloved, Rosencranz and Guildenstern are dead, Romeo is bleeding....



Many thanks for your advice :-)))



films of Gary would you recommend the most?